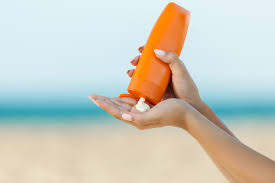 Current sunscreen guidelines 
They are problematic. The SPF rating in sunscreen refers only to the UVB rays that cause sunburn but not the UVA rays that cause skin cancer. Many users may be absorbing far more UVA radiation than they are aware of.
Many sunscreen ingredients have hormone disruptors that can be detected in users' blood and breast milk. The worst, oxybenzone, is killing coral reefs by mutating the DNA of corals. It has been banned in Hawaii.