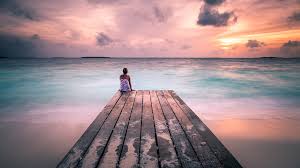 Peace, despite the noise in your mind
Understand it is impossible to silence your mind: It's human to have thoughts. 
The more you fight your thoughts, the more you amplify them. Being non-judgmental is the key to stillness.
Whenever you analyze, you are always thinking into the past and future, not in the present moment.
Focus on what you are doing: This restrains your mind from wandering.
Return to focus whenever you wander away from it.